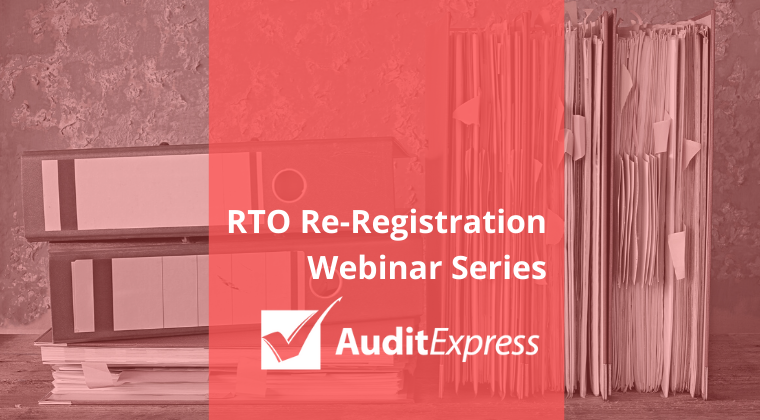 RTO Re-Registration Webinar Series
Audit Express has launched its second webinar series for 2021: a 5-part series that will be delivered over five weeks and will focus on preparing your RTO for re-registration.
Price per webinar: $45 for each live webinar and recording, or $199 for all five live webinars and recordings. Book using the links below.
These webinars are provided as general information and are not endorsed in any way by the ASQA, VRQA (VIC) or TAC (WA). Registered training organisations are advised to undertake their own due diligence, to read and understand their registration standards and to ensure they comply with their registration standards at all times.
Click here to register for the 5-part webinar series. 5 Webinar Bundle: $199. Book here
Click here to register for Webinar 1: How to prepare your RTO for re-registration. Webinar 1: $45. Book here
Click here to register for Webinar 2: Governance and Quality Management Systems in RTOs. Webinar 2: $45. Book here
Click here to register for Webinar 3: How to perfect Training and Assessment Strategies. Webinar 3: $45. Book here
Click here to register for Webinar 4: Resources required to provide quality training and assessment. Webinar 4: $45. Book here
Click here to register for Webinar 5: Making sure your assessment tools, practices and records are audit ready. Webinar 5: $45. Book here