Delivering training online is not a new thing for the Vocational Education and Training (VET) sector. For more than a decade, training providers have delivered both accredited and non-accredited training online, with the quality of online delivery varying from excellent to really poor.
The question of quality in the delivery of training online has recently been put into the spotlight with the release of ASQA's 2020-2022 Regulatory Strategy, which outlines the key risk areas and high-risk qualifications that ASQA will focus on for the following three years. This strategy is updated annually, with changes made where required, to ensure that new issues or concerns in the sector can be addressed as they emerge.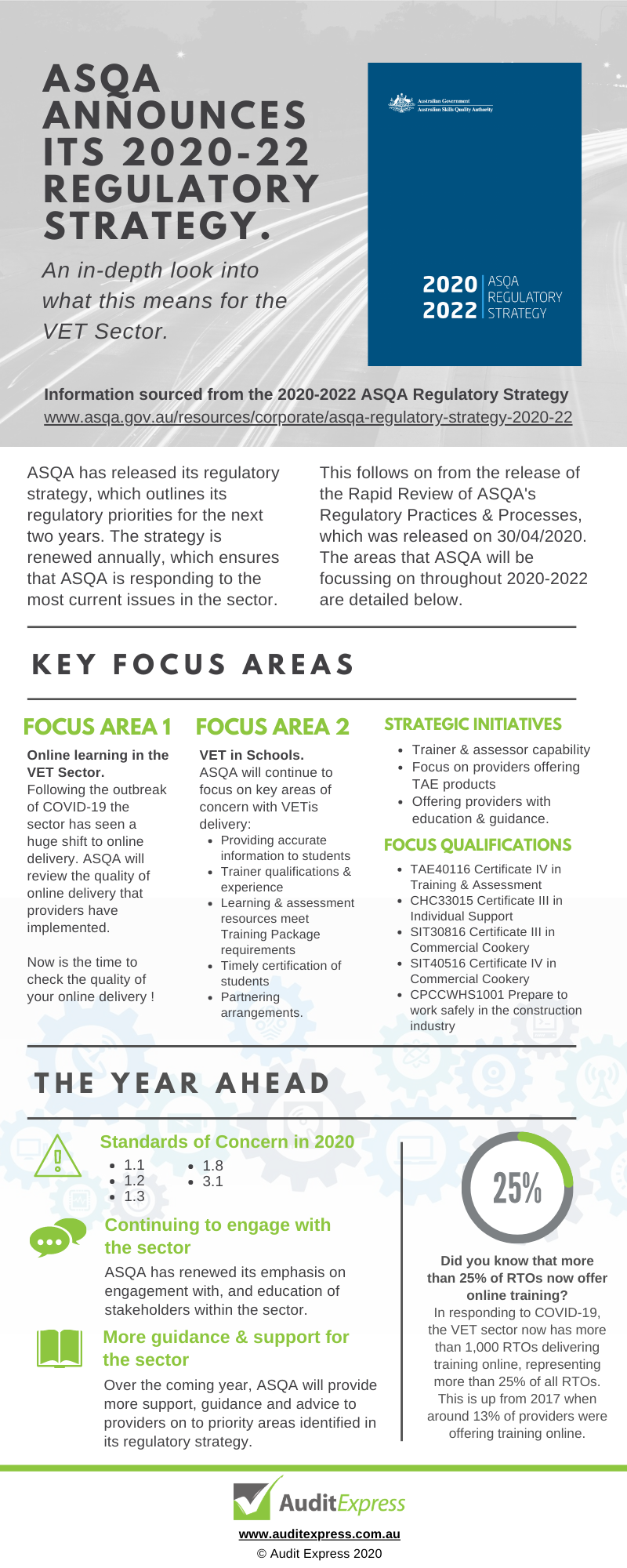 The team at Audit Express have reviewed the ASQA 2020-22 Regulatory Strategy and have prepared an infographic to help you understand the key points and how this will impact your organisation. Click here to download a copy of this infographic.
There are a number of key themes in this year's release of the strategy that you should be focussing on in your organisation:
Online Delivery
VET in Schools Delivery
Priority Qualifications
If your organisation is delivering training online, you should be aware that this is considered to be 'high-risk' and that delivery of training online is now in the regulator's radar.
Now is the time for you to be looking at the quality of the training programs that your organisation is offering online.
In partnership with educonomy, the team at Audit Express have researched best-practice approaches for online delivery from across the globe. We have looked closely at the way regulators of education in other countries around the world are regulating the quality of online delivery. This has helped us to build a suite of tools to be able to review and audit the quality of courses being delivered online here in Australia.
Click on the link below if you would like to have a chat with the team from Audit Express about how to improve the quality of training that your organisation is delivering online.
[mc4wp_form]