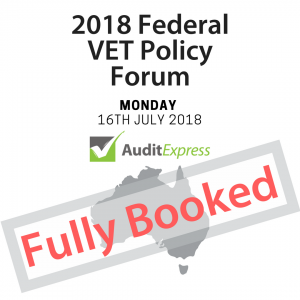 UPDATE – This event is fully booked. All ticket allocations were exhausted in less than 10 hours. We are however hoping to live-stream this event, so please watch this space.
The Australian VET Sector has experienced significant change and transformation over recent years.
If you have solutions and want to make a difference, we want your input!
This event will put the issues and needs of the VET Sector in the spotlight, and back onto the federal policy agenda.
The Federal VET Forum & Panel Discussion will set the scene and put the issue of VET front and centre in the lead up to the Federal Election. This event brings together thought-leaders and key stakeholders from the Vocational Education and Training (VET) Sector, and will provide a platform for discussion, debate and also for concerns about landscape and policy of the VET sector to be voiced.
Hear from the Federal Assistant Minister Karen Andrews, as she delivers her position and vision for the Australian VET Sector beyond 2018.
Hear from the Shadow Minister, Senator Doug Cameron about his plans to review the National Vocational Education and Training sector if his party wins the next the Federal election.
Learn about the various issues and challenges faced by the three key types of training providers in the sector (Private/TAFE/Community) with the VET Sector Stakeholder Panel discussion, which includes:

Rod Camm, CEO of ACPET
Craig Robertson, CEO of Tafe Directors Australia
Don Perlgut, CEO of Community Colleges Australia
Federal VET Policy Forum 16/07/2018
#VETPolicy
#2018FederalVETPolicyForum
#AusPol